ENDO-MATE DT2 has been developed for use with most major brands of Ni-Ti files.
The preprogramming function allows highly efficient treatments using different file manufacturer's protocols.
The control unit has been designed to be lightweight and compact.
It is fitted with a rechargeable battery providing high mobility. The lightweight and slim handpiece allows easy and comfortable handling for high performance.
Technology & Function
ENDO-MATE DT2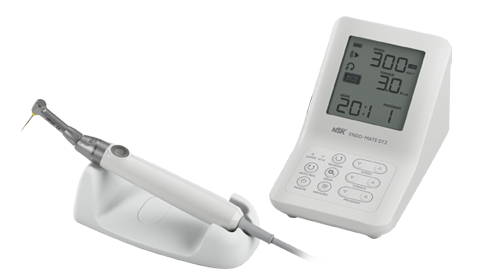 ENDO-MATE DT2 with 20:1 Head
Model:

ENDO-MATE DT2 (230V)

Order Code:

Y1004230
Contents
Control unit
Motor and cord
MP-F20R head (20:1)
Handpiece stand
AC adaptor
ENDO-MATE DT2 without Head
Model:

ENDO-MATE DT2 W/O (230V)

Order Code:

Y1004231
Contents
Control unit
Motor and cord
Handpiece stand
AC adaptor
Specifications
Power Supply
230V 50/60 Hz and Battery pack
Number of Programs
9
Max Torque
7 Ncm (when using 20:1 head)
Speed range
100-13,000 min-1(With 20:1, 1:1 geared heads)
Charge/Continuous use
5 h / 2 h (depending on workload)
Dimensions
W 93 x D 147 x H 100 (mm)
Weight
Unit 440 g / Motor handpiece and Cord 95 g
Heads
MP-F20R / MP-F16R
Model:

MP-F20R

Order Code:

Y110044

Model:

MP-F16R

Order Code:

Y110096

Specifications

Head
Miniature Head
For
Ni-Ti Files (Ø2.35) / 360° Rotation
Gear Ratio
20:1 / 16:1 Reduction
MPA-F20R / MPA-F16R
Model:

MPA-F20R

Order Code:

Y110045

Model:

MPA-F16R

Order Code:

Y110097

Specifications

Head
Miniature Head
For
Ni-Ti Files (Ø2.35) / 360° Rotation / Connection for Apex Locator (for Long Shank)
Gear Ratio
20:1 / 16:1 Reduction
MPAS-F20R / MPAS-F16R
Model:

MPAS-F20R

Order Code:

Y110046

Model:

MPAS-F16R

Order Code:

Y110098

Specifications

Head
Miniature Head
For
Ni-Ti Files (Ø2.35) / 360° Rotation / Connection for Apex Locator (for Short Shank)
Gear Ratio
20:1 / 16:1 Reduction