Functions Required for Mobile Dentistry in a Compact System
VIVAsupport 2 is a system for irrigation and saliva ejection developed based on a new concept: the pursuit of "portability" and "flexibility", required for mobile dentistry. A light and compact control unit equipped with functions required for mobile dentistry can be stored in a light, durable, and dedicated carrying case. Using VIVAsupport 2 combined with Varios 370, compact ultrasonic scaler,dentists can provide not only mobile dentistry, but also maintenance care.VIVAsupport 2 is the next-generation mobile dentistry system, providingservices from the adjustment of dentures to comprehensive treatment.

Adoption of a Two-way (AC and Battery) Power System for All Environments
As VIVAsupport 2 is equipped with high-performance lithiumion battery, it runs for approximately two hours solely on the battery.* When combined with VIVAMATE G5, a portable micromotor unit for mobile dentistry, which adopts the same power system,
VIVAsupport 2 can be used for treatment in environments without a power supply.
*When the battery is completely charged. The operating time varies depending on the usage and environment.

Synchronization with the Irrigation Function (Sync Mode)
When VIVAsupport 2 is combined with VIVAMATE G5, which is equipped with an internal spray LED micromotor, and Varios 370,
compact ultrasonic scaler, the user can operate (turn on/off) the irrigation function in synchronization with the actions of the motor and scaler, using the foot control (optional). The user can adjust and set the volume of water for injection to five levels byoperating the Irrigation Adjustment Key. To connect VIVAsupport 2 with Varios 370, the optional VS branch tube is required. In addition to the Sync mode, the user can also inject water by pushing the On/Off key for irrigation on the control panel.

Technology & Function
Excellent Portability and Mobility

The light weight, compact and durable carrying case can accommodate VIVAsupport 2 connected not only to accessories, including the control unit and bottles for irrigation and suction, but also VIVAMATE G5 and Varios 370 NSK's light weight (only 3.5kg) VIVAsupport 2 solution makes mobile dentistry easy and convenient.
*VIVAsupport 2 Complete Set

Significant Decrease in Set-up Time

Because clinicians' time is so valuable NSK has made sure that the set-up time of of VIVAsupport 2 is minimal. VIVAsupport 2's design allows for treatment to commence almost as soon as the transport case is opened.
Only a few simple steps are required to get the system ready for treatment.

Purpose Built for Optimum Usability

The built in tray has specific holders for the micromotor, ultrasonic scaler and saliva ejector. At the same time the tray provides space for handpieces, burs, hand instruments and accessories during transport. VIVAsupport 2 provides an ergonomic, flexible and safe treatment environment for mobile dentistry.

Large-capacity Bottles for Irrigation and Suction

The capacities of both irrigation and suction waste bottles are 350 ml, enough for prolonged treatment. Tubes and connections can be easily assembled and dis-assembled.
The dedicated bottles, which can be easily maintained, meet the needs of mobile dentistry.
VIVAsupport 2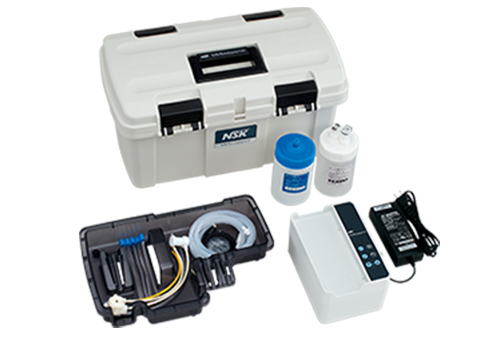 Model:

VIVAsupport 2

Order Code:

Y1002802
Specifications
Power Supply
AC 100-240 V 50/60 Hz
Battery Recharge Time
Appx. 2 Hours*
Battery Contentious Drive Time
Appx. 2 Hours*
Capacity of Tank
350 mL (for Irrigation and Saliva Ejection)
Suction of the Pump
300 mL / min
Dimensions
(VIVAsupport 2 Control Unit)
W 147 x D 188 x H 98 mm
Dimensions
(VS Carrying Case)
W60 x D 265 x H 233 mm
Weight
(VIVAsupport 2 Complete Set)
3.5 kg
Contents
VIVAsupport 2 Control Unit
AC Adaptor
AC Power Cord
VS Irrigation Bottle Set 400
VS Saliva Bottle Set 400
Junction Cable
VS Irrigation Tube
VS Saliva Tube
Saliva Tube
VS Irrigation Pump
Disposable Saliva Ejector (Pack of 10)
Tube Clamp Set (Pack of 6)
VS Saliva Bottle Connection Tube
Saliva Drain Tube
VS Carrying Case
VS Tray